Rooster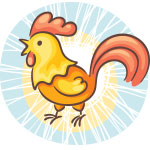 2017, 2005, 1993, 1981, 1969, 1957
---
Sep 21, 2021
Sep 22, 2021
Sep 23, 2021
---
Thursday, September 23, 2021
Changes you did not expect are likely to occur and bring out a rebellious, independent streak that may be interpreted as selfishness. Try to be more tolerant and make room for discussion.
Rooster Weekly Horoscope: Sep 20 to Sep 26, 2021
Starting the week under a Rabbit Moon can push some buttons, for the Rooster and the Rabbit are opposing signs. However, the Rabbit Moon that will always fall at some point during the month of the Rooster each year will see them clash as a Full Moon. That is what we have on Monday and until the Rabbit Moon runs its course on Tuesday you might feel under pressure. However, as you move into the second half of the month of the Rooster and of the foundation month of this new personal 12 month lunar cycle, this brings the right wakeup calls at the right time. The Rabbit is playing devil's advocate, waking you up to your real needs and priorities.
Rooster Monthly Horoscope: September 2021
The month that greets you at the start of September is not the month that you will experience for the majority of the coming month. The month begins with the nostalgic and reflective month of the Monkey in its final days and with it, the final days for this current personal 12 month lunar cycle. This is a time of endings, reflection and closure, as you close old doors in order to open new doors when on 7th September, the New Moon ushers in the month of the Rooster. This is more than just a return to your native energy, with the month of the Rooster the first month of a new personal 12 month lunar cycle. Where the month of the Monkey is about endings, the month of the Rooster is about new beginnings.
Power Numbers: 13, 23, 27, 42, 56, 58
Friendly Signs: Rat & Rooster
Beware of: Snake
Colour of the day: Light Slate Gray
Born Today: Edgar Lee Masters, Walter Lippman, Walter Pidgeon, Mickey Rooney, John Coltrane, Ray Charles, Bruce Springsteen, Michelle Thomas, Ani Difranco
---
You may also like