Dragon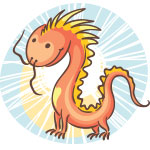 2012, 2000, 1988, 1976, 1964, 1952
---
Oct 6, 2022
Oct 7, 2022
Oct 8, 2022
---
Thursday, October 6, 2022
Your home life is content and harmonious. Relationships run a smoother course and you feel appreciated and supported. For those of you who are single, this is a good time to make a new connection based on a mutual interest.
Dragon Weekly Horoscope: Oct 3 to Oct 9, 2022
There is something about the second week of any lunar month that breeds confidence. The hype of the New Moon is behind us and the Full Moon, which can bring things to a head is still ahead and everything about the Moon is in its growth phase. This is a week where the more you can invest now the more you will have to work with when you moved into the final two weeks of the month of the Dog next Monday. For the Dragon, this not only means investing in your relationships but investing in yourself. Especially as the Full Moon that will mark the halfway point in this lunar month will be a Dragon Moon, which comes into effect on Sunday.
Dragon Monthly Horoscope: October 2022
The month of the Dog will dominate the majority of the month and until 25th October, this not only puts the focus on your relationships but brings you to the halfway point in your current personal 12 month lunar cycle. The Dog and Dragon are opposing signs, so this is not the easiest of months but then it is not supposed to be. The Dog can rub you up the wrong way but in the process is a reminder of the needs, priorities or intentions that you moved into this personal 12 month lunar cycle with six months earlier. A further reminder will be a Dragon Moon midmonth, with a Full Moon on 15th October offering a chance for a reset. Tension will drop when the month of the Dog ends and when on 25th October a New Moon ushers in the month of the Pig and its focus on money matters.
75

68

16

62

64

79

37

15

35
Power Numbers: 5, 6, 26, 43, 44, 49
Friendly Signs: Snake & Dog
Beware of: Rooster
Colour of the day: Floral White
Born Today: Carole Lombard, Thor-Heyerdahl, Fannie Lou Hamer, Robert Mitchum, Lisa Shue, Jeremy Sisto
---
You may also like