Dragon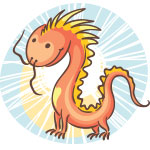 2012, 2000, 1988, 1976, 1964, 1952
---
Jan 20, 2022
Jan 21, 2022
Jan 22, 2022
---
Thursday, January 20, 2022
You have an extra measure of energy and confidence now and will make a strong impression on those in your environment. This is a very good time to go for a job interview, meet the public, or simply go out and be seen. You will be noticed more than usual.
Dragon Weekly Horoscope: Jan 17 to Jan 23, 2022
Monday's Full Moon brings us to the halfway point of the professionally charged and competitive month of the Ox and with it a reminder to pace yourself. Monday's Full Moon is a Goat Moon and not only are the Goat and Ox opposing signs they have opposing messages. The Goat wants to put the focus on things close to home while the Ox wants you to keep your nose to the grindstone. This brings some timely work/life balance reminders as you not only move into the second half of the month of the Ox but the final two weeks of the Year of the Ox.
Dragon Monthly Horoscope: January 2022
Because the month of the Rat will end and the month of the Ox will begin on 2nd January and then run through to the end of the month, this month belongs to the professionally charged and competitive Ox. However, the year begins under the adventurous month of the Rat and under a Rat Moon, this is something that can be captured. For the Dragon, the month of the Ox was always going to get the year off to a professionally charged and competitive start but even more so as this is also the final month of the Year of the Ox. This gets this new professional year off to a good start but before it leaves, the Rat reminds you that life can't be all work and no play.
64

21

39

43

34

15

4

52

38
Power Numbers: 12, 20, 21, 26, 33, 48
Friendly Signs: Ox & Tiger
Beware of: Goat
Colour of the day: Blue Violet
Born Today: George Burns, Federico Fellini, Patricia Neal, Malcolm McLaren, Joy Adamson, Leadbelly
---
You may also like