Dragon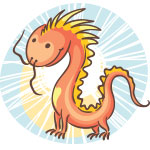 2012, 2000, 1988, 1976, 1964, 1952
---
May 19, 2022
May 20, 2022
May 21, 2022
---
Friday, May 20, 2022
Tension is looming over a relationship with an older person or someone in a position of authority. You may have to compromise in order to reach a positive outcome after a negotiation takes place. Even if you are not entirely satisfied, use this as an opportunity for growth and understanding.
Dragon Weekly Horoscope: May 16 to May 22, 2022
An eclipsing Full Moon brings us to the most potent point in the month of the Snake, with the wind down beginning as we move into the final two weeks on Monday. This is more than just the symbolic halfway point, with the Moon reaching full illumination and potency before moving into its waning phase. If the first half of any lunar month is a time of planting, then the second half is a time of completion and harvest and in the lucrative month of the Snake, this is significant. However, it is not just about the money, with the Snake on a mission to attract things of value across all the currencies in your life. This will get a boost from a competitive and professionally charged Ox Moon in the second half of the working week.
Dragon Monthly Horoscope: May 2022
Because the New Moons that bring one lunar month to a close and usher in the next fall at either end of May, the majority of the month will be dominated by the month of the Snake, which is rare. Normally what we have is a month of two halves, but May is almost totally dominated by the Snake. The month begins with a Snake Moon in effect and the eclipsing New Moon that gets the month off to an empowered start is in full effect on 1st May. For the Dragon, the month of the Snake can be a lucrative month but a rise in confidence and a belief in what you deserve can have a positive impact on all the currencies in your life. It is on 30th May that a Horse Moon will usher in the month of the Horse, with its focus on communication and all things intellectual coming into effect at the very end of the month.
61

37

11

29

44

100

72

30

70
Power Numbers: 10, 12, 15, 20, 52, 54
Friendly Signs: Monkey & Tiger
Beware of: Dragon
Colour of the day: Thistle
Born Today: Honore de Balzac, John Stuart Mill, James Stewart, Moshe Dayan, Cher, Dave Thomas, Jane Wiedlin
---
You may also like