Pisces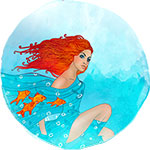 Feb 19 - Mar 20
---
Today's Horoscope
This week
This month
---
Pisces Weekly horoscope for Nov 28 to Dec 4, 2022
Whether it is Jupiter in his first full week back in direct motion in Pisces or Neptune, in his final days in retrograde motion here before turning direct over the weekend, both have come to a standstill. This gives you a chance to pause as you take in a sense of what's possible moving forward while the doors are still open to the past. It was only at the end of last month that Jupiter retrograded back in, just as Neptune was moving into his final month in retrograde motion here. This has brought the planets of luck and dreams together again, with a chance to invest in the dream that Saturn's return in March will help turn into reality. The Moon will not only return to Pisces on Wednesday but just as Jupiter moves into his final three weeks here and Neptune his final days in retrograde motion, giving you insight into the past, present and future. Meanwhile, it is over the weekend that the Moon will return to your income sector to team up with the planets that are preparing for Jupiter's return and those that are on a mission to bring this professional year up to speed.
Love & Romance
It was on Sunday that the Moon formed a friendly aspect to the dwarf planet Ceres in your relationship sector but also to planets in your communication sector, acting as a bridge between the two. This is something that the Moon has done every four weeks since Ceres returned nearly two months ago to begin her first deep dive into your relationship needs and priorities in four years. This allows you to move into the new week with the communication lines open and a better sense of your relationship needs and priorities. While that would always be an advantage, even more so as it is on Monday that Ceres will move into her final three weeks here. With Ceres returning again in March this won't bring this mission to better understand your relationship needs and priorities to an end but will put this on pause and with life getting busier, the Moon leaves you with an advantage that needs to be seized.
Business & Career
With the Sun in his first full week in your career sector and Venus and Mercury both in their last, all eyes are on work and job matters this week. As you move into the new week the Sun has only been here and the solar spotlight has only been on your career and professional situation, matters and options for six days. However, in that time the Moon has moved through, there has been a New Moon and an alignment between Mercury and Venus has peaked. A lot of water has already passed under the bridge in a short time for, as you move into the new week it has only been 16 days since Venus returned, beginning the first planetary activity here since January. Until they leave next week Mercury and Venus will continue to keep heart and mind on the same page, giving you a better sense of what you want and how to make it happen. The Sun only returned last week to begin a month long visit, so this will keep the solar spotlight on your career situation and matters through the first three weeks of December.
Money
On both sides of the financial fence this is a quiet week, but there is also a growing sense of anticipation on both sides. It was a month ago that Mercury not only left your financial sector, the side of the financial fence where the focus is more on what you do with and how you manage the money you have but ended all planetary activity. It was a day later that Jupiter left your income sector and while leaving behind Chiron and the dwarf planet Eris, with both in retrograde motion and playing a long game, this saw things dial right back. However, even before the Moon returns to your income sector your sixth sense will be picking up on change in the air. Having turned direct last week, by the time the Moon returns on Friday the planet of luck and expansion will be on his way back and will be less than three weeks away from returning. At the same time, as you move into the new week the dwarf planet Ceres is just 21 days away from your financial sector and from her first deep dive into your financial needs and priorities in four years.
Health
Whether it is starting the week with the Moon in a nostalgic and reflective part of your chart, something that can invite you to slow down or the fact that Jupiter is at a standstill in his first full week in direct motion in Pisces, there is a united call to pull back. Even Neptune, your ruling planet is at a standstill ahead of his direct turn in your sign over the weekend. The same planets that would not hold back if they wanted you to get moving are this week all united in a call to pull back and pace yourself. Mainly because as we move into what can be the busiest weeks of any year, this won't always be the case.
---
You may also like