Tiger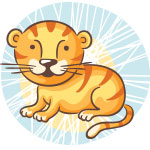 2010, 1998, 1986, 1974, 1962, 1950
---
Dec 3, 2022
Dec 4, 2022
Dec 5, 2022
---
Sunday, December 4, 2022
Be ready for a touch of tension when you meet up with people you haven't seen for some time but, once the conversation gets into motion, all concerned will feel a lot more relaxed.Don't be blind to the mistakes you have made in the past regarding a particular person.
Tiger Weekly Horoscope: Nov 28 to Dec 4, 2022
The first full week of any new lunar month is something to be embraced but especially when it is the social and serendipitous month of the Rat. For the Tiger, this is the most socially charged and connected month of any year and with the Moon still in its waxing or growth phase, this is likely to be a busy and vibrant week. With things to do, places to go and people to see it is important to also make time for yourself, recognising when you might need to put out the 'do not disturb' sign or say no to some invitations. You can't be all things to all people, all the time. Recognise when you might need to recharge your batteries.
Tiger Monthly Horoscope: December 2022
This is a month of two halves but also in the right order. Until 23rd December, the social and serendipitous month of the Rat is likely to keep you busy. This is a busy and vibrant month with places to go, people to see and things to do. Couple that with the final weeks of the year, when there is often a lot more happening socially and you might reach a point where this is starting to wear thin, longing for a chance to make yourself unavailable and for time to hear yourself think. A Rat Moon from 21st December to 23rd December could be especially busy, in terms of where you need to be and when, but this is the last hurrah. It is a New Moon on 23rd December that will not only usher in the more nostalgic and reflective month of the Ox but with it a chance to pull back as you move into the final weeks of your current personal 12 month lunar cycle.
Power Numbers: 4, 8, 29, 40, 45, 67
Friendly Signs: Tiger & Pig
Beware of: Rabbit
Colour of the day: Pale Green
Born Today: Thomas Carlyle, Wassily Kandinsky, Rainer Maria Rilke, Marisa Tomei, Tyra Banks
---
You may also like