Tiger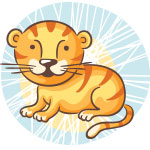 2010, 1998, 1986, 1974, 1962, 1950
---
Dec 5, 2021
Dec 6, 2021
Dec 7, 2021
---
Monday, December 6, 2021
Ardent feelings are reinforced by spirited conversation and instinctual moves that don't require forethought. Let feelings flow and they will carry you along without your having to step on the gas. Whatever comes out first is probably the most sincere, so don't double-check your reactions, just go with the gut.
Tiger Weekly Horoscope:
Tiger Monthly Horoscope: December 2021
While the competitive and professionally charged month of the Pig will run its course on 4th December, there is a lot you can pack into these final days. Especially as the Pig is less focused on what you can accomplish and more on channelling its competitive influence into goals and ambitions that can live on. Meanwhile, the same eclipsing New Moon that will bring the month of the Pig to a close on 4th December will also usher in the social and serendipitous month of the Rat. With the month of the Rat running through to early January, your friendships, teamwork and networking will become increasingly important during the final weeks of 2022 and especially over the holiday period.
4

53

90

62

68

64

54

38

87
Power Numbers: 2, 6, 10, 28, 37, 43
Friendly Signs: Rabbit & Rooster
Beware of: Dragon
Colour of the day: Gold
Born Today: Evelyn Underhill, Lynn Fontanne, Ira Gershwin, Alfred Eisenstaedt, Dave Brubeck, Jobeth Williams, Cindi Wafstet
---
You may also like