Rooster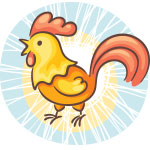 2017, 2005, 1993, 1981, 1969, 1957
---
Dec 3, 2022
Dec 4, 2022
Dec 5, 2022
---
Sunday, December 4, 2022
Your time to shine has come! Your energy and confidence will make a swift impression on someone in a position of authority. This is an auspicious time for job interviews, business meetings and professional development seminars.
Rooster Weekly Horoscope: Nov 28 to Dec 4, 2022
The first full week of the month of the Rat is putting the focus on things close to home, something that can help you feel more grounded, allowing you to get back to basics. The problem could be a busy and industrious Tiger Moon from Monday to Wednesday, something that is likely to get the week off to a busy start. At what is already a busy point in any year, this might expose any work/life balance issues, but then as you can't change what you're not aware of, this is the right reminder at the right time. This should be an easy fix and especially if you put both work and home on equal footing and work to find a mutually beneficial balance.
Rooster Monthly Horoscope: December 2022
The New Moon that falls every 24 days will always bring one lunar month to a close while ushering in the next, meaning that at some point in each calendar month there will be a shift in focus. This month, that point is 23rd December, when a New Moon will bring the month of the Rat to an end. Until then, the Rat is keeping the focus on things close to home and during what can be some of the busiest weeks of any year, this will also help to maintain the right work/life balance. This is something that could come to a head during a competitive and professionally charged Horse Moon and the Full Moon this will create on 8th December. This is an important message that you can take with you when the New Moon on 23rd December ushers in the fun, playful, romantic and creative month of the Ox, just in time for Christmas, New Year and the holiday period.
Power Numbers: 1, 4, 8, 33, 35, 38
Friendly Signs: Monkey & Snake
Beware of: Rabbit
Colour of the day: Dark Orange
Born Today: Thomas Carlyle, Wassily Kandinsky, Rainer Maria Rilke, Marisa Tomei, Tyra Banks
---
You may also like