Rat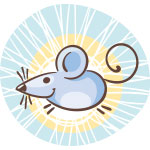 2020, 2008, 1996, 1984, 1972, 1960
---
Dec 5, 2021
Dec 6, 2021
Dec 7, 2021
---
Monday, December 6, 2021
Your words carry a deep emotional charge and subtle messages that may require a kindred spirit to be understood. You may not be a spiritual person, but these days thoughts of compassion and acceptance give you the glow of wisdom. Looking back at your life to understand why you are who you are today is probably the best way you could spend this time.
Rat Weekly Horoscope:
Rat Monthly Horoscope: December 2021
How the month begins couldn't be more different to how it ends and you won't have to wait long for the shift to happen. The month begins with both the nostalgic and reflective month of the Pig still playing out but with it the final days of a personal 12 month lunar cycle. This is a time of reflection, closing old doors and for looking back and it will come to an end when an eclipsing New Moon ushers in the month of the Rat and with it the start of a new personal 12 month lunar cycle. Within days a focus on the past will be replaced by a focus on the future as you move into a new cycle. Over the next four weeks, there will be a chance to reconnect with your personal truth and plot a course for this next cycle. A month that began focused on endings soon shifts to a focus on new beginnings.
10

4

42

89

85

58

77

21

55
Power Numbers: 4, 6, 16, 21, 23, 66
Friendly Signs: Horse & Rat
Beware of: Tiger
Colour of the day: Lime Green
Born Today: Evelyn Underhill, Lynn Fontanne, Ira Gershwin, Alfred Eisenstaedt, Dave Brubeck, Jobeth Williams, Cindi Wafstet
---
You may also like