Rabbit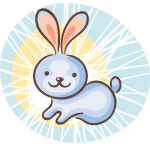 2011, 1999, 1987, 1975, 1963, 1951
---
Jan 28, 2023
Jan 29, 2023
Jan 30, 2023
---
Monday, January 30, 2023
During this time period you feel a lot of tension between your goals, dreams, and aspirations versus your responsibilities. Typically, the struggle is between responsibilities to family members (children, parents, spouse) and career goals and ambitions, although your particular responsibilities and goals may be of a somewhat different nature.
Rabbit Weekly Horoscope: Jan 23 to Jan 29, 2023
The weekend's New Moon has brought you to a major turning point but with it a chance to transition into the Year of the Rabbit. While this is a year where there is an opportunity for major new beginnings, this is also the start of a new personal 12 year lunar cycle, with the next 13 months offering a chance to lay down tracks, open new doors and set things up for future growth and expansion. Holding you back from having to embrace this head on is that the weekend's New Moon also ushered in the nostalgic and reflective month of the Tiger, bringing you to the final month of your current personal 12 month lunar cycle. Yet as you have just spent the last 12 months winding down a 12 year lunar cycle, this will be more a chance to tie up loose ends.
Rabbit Monthly Horoscope: January 2023
Throughout the month there is an overlapping of the past, present and future and while that will continue all month, the nature of that focus will change and start to shift more towards the future than the past. While the social and serendipitous month of the Ox doesn't end until 21st January and this will allow you to stay in the present and remain socially connected, these are also the final three weeks of the nostalgic and reflective Year of the Tiger and of a personal 12 year lunar cycle. This will end when the New Moon on 21st January will usher in the Year of the Rabbit, ending one 12 year lunar cycle and starting the next, opening the doors to major new beginnings. Yet the same New Moon will also usher in the month of the Tiger and the start of the four week wind down of this current personal 12 month lunar cycle.
Power Numbers: 18, 30, 34, 53, 60, 69
Friendly Signs: Pig & Rabbit
Beware of: Horse
Colour of the day: Light Green
Born Today: Mohammed, Franklin Delano Roosevelt, Gene Hackman, Richard Brautigan, Phil Collins, Boris Spassky, Tammy Grimes, Shirley Hazzard
---
You may also like