Rabbit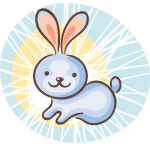 2011, 1999, 1987, 1975, 1963, 1951
---
Dec 5, 2021
Dec 6, 2021
Dec 7, 2021
---
Monday, December 6, 2021
Meeting people that can benefit your career, getting together with colleagues, or getting to know your superiors on a more personal, friendly basis is quite likely at this time. Take advantage of all opportunities to socialize with the people you have professional ties with for the outcome is likely to be quite positive.
Rabbit Weekly Horoscope:
Rabbit Monthly Horoscope: December 2021
Weeks before the holiday period begins the adventurous month of the Pig will run its course on 4th December, making this something that needs to be embraced and held onto. The key to holding onto the Pig's focus on adventure, travel, learning and discovery is to turn this into a bucket list that will not only ensure its influence lives on but where the Rat's influence can work to its advantage. The same eclipsing New Moon that will bring the month of the Pig to a close will also usher in the competitive and professionally charged month of the Rat. While this is good news for the final weeks of this professional year, the Rat's competitive influence can turn your bucket list into resolutions for the New Year. However, you need a bucket list because the spirit of adventure itself will wane.
77

92

54

93

41

51

17

66

57
Power Numbers: 6, 10, 13, 31, 35, 69
Friendly Signs: Monkey & Horse
Beware of: Rooster
Colour of the day: Honeydew
Born Today: Evelyn Underhill, Lynn Fontanne, Ira Gershwin, Alfred Eisenstaedt, Dave Brubeck, Jobeth Williams, Cindi Wafstet
---
You may also like