Pig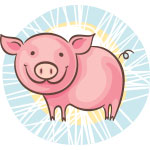 2019, 2007, 1995, 1983, 1971, 1959
---
Sep 21, 2021
Sep 22, 2021
Sep 23, 2021
---
Tuesday, September 21, 2021
Today you will have an opportunity to showcase your talent to others. You will be noticed and appreciated, as someone in your professional sphere will give you positive feedback. This interaction will lead to a future promotion.
Pig Weekly Horoscope: Sep 20 to Sep 26, 2021
The social and serendipitous month of the Rooster reaches its halfway point at Monday's Full Moon and this is when this might start wearing a little thin. The month of the Rooster is a busy and vibrant month, with people to see and places to go, whether in person or not. Even the phone is more likely to ring during the month of the Rooster and the number of emails increase, as everyone seems to want your time and attention. With the nostalgic and reflective month of the Dog just around the corner, this could have you yearning for a chance to put out the 'do not disturb' sign.
Pig Monthly Horoscope: September 2021
The professionally charged and competitive month of the Monkey still has a few days to play out when you move into the new month, making the early part of the month a time for setting goals or just for tapping into its competitive influence. It is on 7th September that a New Moon will usher in the more social and serendipitous month of the Rooster, which will put the focus on connecting and on your social life, friendship, teamwork and networking. While that is always the case with the month of the Rooster, what will make it more special this year is that it happens during the Year of the Ox. When these friends meet up there will be a lot of focus on communication.
7

77

65

37

90

86

83

33

34
Power Numbers: 13, 15, 19, 21, 38, 57
Friendly Signs: Rabbit & Tiger
Beware of: Ox
Colour of the day: Old Lace
Born Today: H. G. Wells, Gustav Holst, Leonard Cohen, Stephen King, Cheryl Hines, Faith Hill, Ricki Lake, Derek Brewer
---
You may also like