Pig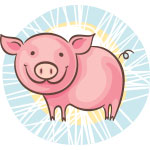 2019, 2007, 1995, 1983, 1971, 1959
---
Aug 9, 2022
Aug 10, 2022
Aug 11, 2022
---
Tuesday, August 9, 2022
Charm and refinement define you at this time. A well chosen date may lead to a more permanent commitment. Cut lose the strings that bind you to a negative relationship you have indulged in for too long.
Pig Weekly Horoscope: Aug 8 to Aug 14, 2022
The Full Moon that will always fall at the halfway point in the professionally charged and competitive month of the Monkey is usually a Tiger Moon and this year is no exception. The Tiger puts the focus on home and family matters but is also the opposing sign to the Monkey and when they clash as a Full Moon this can create professional pressure or work/life balance tension. However, this comes just as the Moon is preparing to move into its waning phase and when less will then become more. The Tiger Moon won't run its course until Sunday, giving you the weekend to regroup and look at your work/life balance more objectively.
Pig Monthly Horoscope: August 2022
Because August begins on a Monday, there is a chance to begin both the month itself and the new working week with all guns blazing. It was just three days earlier that a New Moon ushered in the competitive and professionally charged month of the Monkey, which will run through to 27th August. For the Pig, this is going to fuel your competitive spirit and while this can bring you to the peak of your professional year the Monkey will also have an influence on both your personal and professional goals and ambitions. The Monkey not only makes you more competitive but more confident in your ability to make things happen. It is when the month of the Monkey ends on 27th August that the more social and serendipitous month of the Rooster will begin.
25

16

57

90

97

45

48

83

12
Power Numbers: 6, 9, 17, 28, 40, 56
Friendly Signs: Tiger & Snake
Beware of: Ox
Colour of the day: Medium Sea Green
Born Today: Izaak Walton, Jean Piaget, Robert Shaw, David Steinberg, Ken Norton, Melanie Griffith, Whitney Houston, Audrey Tautou
---
You may also like