Pig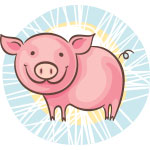 2019, 2007, 1995, 1983, 1971, 1959
---
Dec 3, 2022
Dec 4, 2022
Dec 5, 2022
---
Sunday, December 4, 2022
Today you're all about communication. You should respond to that message or e-mail no one else want to tackle. Present your ideas to large groups and try to remember that being an able communicator is not the same thing as being a good listener.
Pig Weekly Horoscope: Nov 28 to Dec 4, 2022
When the month of the Pig ran its course last Tuesday, this brought the foundation month of your new personal 12 month lunar cycle to a close, while bringing you to the point where the real journey begins. It is now, in the first full week of the month of the Rat that there is a chance to start taking the first steps towards turning intentions and resolutions into reality, especially with the Moon still in its waxing or growth phase. While the month of the Rat can be a lucrative month, its real impact comes from its ability to boost your confidence and a belief in yourself, giving you the courage to take bold new steps into the future.
Pig Monthly Horoscope: December 2022
With the lucrative month of the Rat not running its course until 23rd December, it will be doing what it can to bring the year to a lucrative end. However, it is not just about the money. Following on from the month of the Pig, where you set your intentions and resolutions for this new personal 12 month lunar cycle, the Rat gives you the confidence to believe in yourself and to expect more across all the currencies in your life. Meanwhile, the New Moon that will bring the month of the Rat to a close on 23rd December will usher in the month of the Ox, which for the Pig is the Swizz army knife of any lunar year, with a tool for every occasion. The Ox makes it easier to think on your feet while making all aspects of communication run more smoothly. Meanwhile, a Tiger Moon will put the focus on home and family over Christmas itself.
61

35

2

51

57

21

49

53

24
Power Numbers: 3, 4, 5, 16, 25, 44
Friendly Signs: Dog & Snake
Beware of: Rabbit
Colour of the day: Olive Drab
Born Today: Thomas Carlyle, Wassily Kandinsky, Rainer Maria Rilke, Marisa Tomei, Tyra Banks
---
You may also like