Ox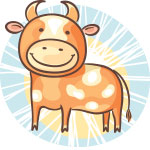 2021, 2009, 1997, 1985, 1973, 1961
---
Sep 21, 2021
Sep 22, 2021
Sep 23, 2021
---
Thursday, September 23, 2021
Accept yourself and believe that you can go after something/someone you desire. Do not chase connections that may get severed. Invest your energy into something with a future.
Ox Weekly Horoscope: Sep 20 to Sep 26, 2021
One of the only real downsides to the adventurous month of the Rooster is that at some point it must end and you get that message this week when Monday's Full Moon brings you to the halfway point. Apart from a potential case of Mondayitis, this is a Full Moon that can challenge old excuses at a point where you still have two weeks to embrace the Rooster's adventurous influence. However, it is not just about embracing a sense of adventure, with the Ox and Rooster part of the same triad of affinity and therefore natural allies. With things more likely to go your way, this can be the push to try more things while you have this advantage.
Ox Monthly Horoscope: September 2021
While the month begins under the month of the Monkey and its focus on money matters, the greater part of the month will be under the domain of the adventurous month of the Rooster. The change happens on 7th September, with a chance to get on top of money matters in the early days of the month. For the Ox, the month of the Rooster is always the month that you have been waiting for and not just because of its adventurous influence. The Ox and the Rooster are part of the same triad of affinity, so life will flow more smoothly under its influence and even more so during the Year of the Ox. The Ox and Rooster will have a chance to work side by side for four weeks, which rarely happens.
Power Numbers: 2, 23, 29, 32, 63, 66
Friendly Signs: Rabbit & Dragon
Beware of: Rat
Colour of the day: Crimson
Born Today: Edgar Lee Masters, Walter Lippman, Walter Pidgeon, Mickey Rooney, John Coltrane, Ray Charles, Bruce Springsteen, Michelle Thomas, Ani Difranco
---
You may also like