Horse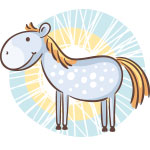 2014, 2002, 1990, 1978, 1966, 1954
---
Dec 5, 2021
Dec 6, 2021
Dec 7, 2021
---
Monday, December 6, 2021
While responsibilities and deadlines and situations that appear to need your immediate attention may be weighing on your mind, today is a great day for you to turn into a play day. Take some time off, revitalize, pamper yourself some and give your mind a break from the obligations and problems it must address on a daily basis. If you do your energy level will increase and make the coming days easier to navigate successfully.
Horse Weekly Horoscope:
Horse Monthly Horoscope: December 2021
While the month might get off to a busy start this will ease back within days, giving you a chance to dial back from last month's breakneck speed. On the job front or with whatever it is that keeps you busy, this leaves you with plenty of momentum but once the month of the Pig ends on 4th December this will be something that you control rather than it control you. As the New Moon that brings the month of the Pig to a close and ushers in the month of the Rat is a total solar eclipse, this could see a fairly dramatic shift. The Rat is your opposing sign and six months after the month of the Horse kicked off this current personal 12 month lunar cycle, this is a chance to check in. The Rat will challenge you but where you need to be challenged. This also puts the focus on your relationships.
39

5

51

16

34

27

56

65

67
Power Numbers: 6, 15, 29, 33, 35, 39
Friendly Signs: Rabbit & Rat
Beware of: Horse
Colour of the day: Moccasin
Born Today: Evelyn Underhill, Lynn Fontanne, Ira Gershwin, Alfred Eisenstaedt, Dave Brubeck, Jobeth Williams, Cindi Wafstet
---
You may also like