Dragon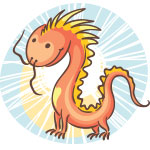 2012, 2000, 1988, 1976, 1964, 1952
---
Aug 9, 2022
Aug 10, 2022
Aug 11, 2022
---
Wednesday, August 10, 2022
Congenial company will make your day an unforgettable one. Create new memories with new people while you enjoy the bond you share with old friends. Do not limit yourself to one or the other.
Dragon Weekly Horoscope: Aug 8 to Aug 14, 2022
The month of the Monkey peaks this week, with Friday's Full Moon marking the halfway point. However, this is not an arbitrary line in the sand. Instead, Friday's Full Moon will bring this lunar month to its peak, with everything until that point building and expanding and everything from that point waning. This creates a sense of urgency at the start of the week, especially when it comes to embracing the Monkey's playful and creative influence. Friday's Full Moon also means that the busy and industrious month of the Rooster is just two weeks away, bringing with it a call to build for the future when it comes to a balance between work and play.
Dragon Monthly Horoscope: August 2022
A New Moon in the final days of July means that as you move into August the new lunar month is still in its early days and will run through 27th August, with the month of the Monkey occupying the majority of the month. While there will be a sea change in the final days, with the New Moon on 27th August ushering in the busy and industrious month of the Rooster, it is the playful Monkey that will dominate the month. This will put a lot of focus on matters of the heart and all things fun, playful, romantic and creative but as the Monkey and Dragon are part of the same triad of affinity, this should be a good month in general.
69

4

72

80

98

17

20

45

96
Power Numbers: 1, 10, 27, 28, 35, 69
Friendly Signs: Rooster & Goat
Beware of: Monkey
Colour of the day: Lime
Born Today: Anna Julia Cooper, Herbert Clark Hoover, Norma Shearer, Jimmy Dean, Rosanna Arquette, Antonio Banderas, Mike McGlone
---
You may also like