Dragon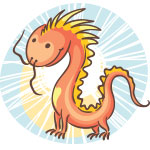 2012, 2000, 1988, 1976, 1964, 1952
---
Dec 3, 2022
Dec 4, 2022
Dec 5, 2022
---
Sunday, December 4, 2022
Magnetism and confidence attract all sorts of new people into your world. Your relationships become more intense and visceral, compensating for the idealistic phase you have just come out of. Allow this urgency to guide you to a new kind of bonding.
Dragon Weekly Horoscope: Nov 28 to Dec 4, 2022
Everything about the first full week of the adventurous month of the Rat is exciting. With the Moon still in its waxing or growth phase and not set to peak until next week, this is a point in any lunar month when everything is new, expansive and full of hope. When this is also the month of the Rat, with its focus on adventure, travel, learning and discovery and what is being expanded or amplified is a sense of wanderlust, curiosity and adventure, there is nothing not to like about this. However, the Rat doesn't just make life more exciting. As the Rat and Dragon are the best of friends, he will work to make life run as smoothly as possible for you.
Dragon Monthly Horoscope: December 2022
With the adventurous month of the Rat not running its course until 23rd December, this is taking you up to just before Christmas but this year, this won't continue through the holiday period. This makes it important to embrace the Rat's adventurous influence while you can, using these final weeks to work on your bucket list for 2023. However, for the Dragon, the Rat doesn't just put the focus on adventure, travel, learning and discovery. As part of the same triad of affinity, when the Rat and Dragon come together life will run more smoothly. This and the spirit of adventure will be on full display during a Rat Moon from 21st December to 23rd December. It is then that an Ox Moon from 23rd December to 25th December will usher in the competitive and professionally charged month of the Ox.
Power Numbers: 4, 32, 35, 40, 50, 67
Friendly Signs: Dragon & Dog
Beware of: Horse
Colour of the day: Powder Blue
Born Today: Thomas Carlyle, Wassily Kandinsky, Rainer Maria Rilke, Marisa Tomei, Tyra Banks
---
You may also like