Dragon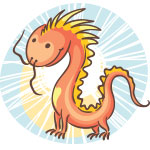 2012, 2000, 1988, 1976, 1964, 1952
---
Dec 8, 2023
Dec 9, 2023
Dec 10, 2023
---
Find out more about Dragon
The Dragon is the most celebrated sign of the Chinese Zodiac. They are powerful and very lucky, warm-hearted and full of blazing energy. Dragons are intelligent beings born with endless charisma, which ensures they influence the actions of those around them and often makes them the center of attention?a place they enjoy being. Dragons are known for giving good advice. Just as they are lucky with money, so too are they lucky in love.
Dragons have a talent for managing projects from there inception to there end with great success. Although their egos may be a bit inflated, they do make good leaders. While Dragons may acquire great wealth, it is power they truly want. Dragons are usually gracious winners and, conversely, very poor losers.
Being a leader is the natural role of the Dragon. Those who learn to be flexible, compassionate and tolerant may become great leaders.
Dragon in love
Active, Determined, Confident, Enterprising, Versatile, Scrupulous and Lucky.
Famous Dragons Include
Jeffrey Archer, Michael Barrymore, Count Basie, Julie Christie, James Coburn, Bing Crosby, Neil Diamond, Matt Dillon, Placido Domingo, Kirk Douglas, Michael Douglas, Marlene Dietrich, Tom Jones, John Lennon, Nick Nolte, Al Pacino, Elaine Paige, Gregory Peck, Cliff Richard, Martin Sheen, Ringo Starr, Shirley Temple.
Ideal Jobs
Managing director, Salesperson, Advertising executive, Barrister, Film producer, Prime minister or President, Photojournalist, Architect, Astronaut, Artist, Film star, War correspondent.
Lucky Numbers
3, 4, 5, 6, 15, 21, 34, 35, 36 and 45.
Equivalent Western Sign
Aries
Most Compatible With
Monkey or the Rat.
---
You may also like