Cancer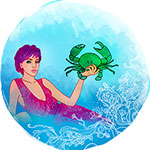 Jun 21 - Jul 22
---
Today's Horoscope
This week
This month
---
Cancer Weekly horoscope for Nov 28 to Dec 4, 2022
This is likely to be a busy week, whether on the job front or with whatever it is that keeps you busy and occupies your time. With the Sun in his first and Venus and Mercury both in their last full week in your work sector, all three are benefiting from the momentum that last week's New Moon created. With Jupiter in direct motion and on his way back to your career sector, this is adding to a rise in both professional confidence and momentum. You will have a better read on this when the Moon returns to your career sector on Friday, something that will sharpen your professional instincts and allow you to become more emotionally and intuitively engaged. However, there could be some work tension or job pressure and especially around Wednesday and Thursday, in the heart of the working week. This is simply pressure from Mars, whose clash with Mercury and Venus is putting how well you know when to keep your work hat on and when to take it off to the test.
Love & Romance
While the Moon will leave your relationship sector just as we move into the new week, this will ensure you are emotionally engaged just as a transition away from matters of the heart and onto your relationships has begun. It was last week that the Sun not only left your romantic sector but ended all planetary activity on the romantic front for the year, just 30 days after it began. Fortunately, the Moon stayed on for another two days, with romantically charged lunar vibes able to capture and hold onto the influence of not just the Sun but Venus and Mercury, who had left a week earlier. It is next week that Venus and Mercury, the planets of love and communication will return to do the same on the relationship front. With all planetary activity on the romantic front for the year having ended last week, and a new surge of planetary activity on the relationship front beginning next week, there is a chance to pause in between.
Business & Career
With the Sun in his first full week in your work sector and Venus and Mercury their last, all eyes are on work and job matters this week but with a sense that this is just a stepping stone. By the time you move into the new working week the Sun has only had the solar spotlight on your work situation and job matters for six days and it was just 10 days earlier that Venus had begun the first planetary activity on the job front since January. Yet already a lot of water has passed under the bridge, including a six day alignment between Venus and Mercury and last month's New Moon. This has seen the pace pick up and has given work and job matters the green light while giving you a better sense of what you want and how to make it happen. Venus and Mercury will both leave next week and the Sun will be gone before Christmas, wrapping up all planetary activity on the job front for the year. However, back in direct motion, by the time the Moon returns to your career sector on Friday Jupiter, is just 19 days away.
Money
The Moon is making a well timed visit to your financial sector and not just because returning on Monday this will allow you to begin the week with your financial instincts and imagination fuelled from the start. What makes the timing auspicious is that this will ensure you are emotionally and intuitively engaged as for the second time in as many months a friendly aspect between Saturn here and Mars in an intuitive and imaginative part of your chart begins. When Saturn and Mars came together at the end of September it was for the first time in 30 years, but just two months later they have come together again. This time Saturn, who was in retrograde motion then is now in direct motion and leaving in March he is giving you the power to move mountains if you have to, as you not only look to the future but get serious about taking your financial power back. This time Mars is in retrograde motion and while still able to fuel your financial confidence, instincts and imagination is connecting you to your old fighting spirit.
Health
At the same time that the Sun is spending his first full week in your health sector, Venus and Mercury are spending their last, with a valuable and timely crossover between the two. While the Sun is more focused on reality checks and transparency as he turns the solar spotlight onto your health needs, situation and matters, Venus is fuelling a desire to look and feel good while Mercury is all about information and knowledge gathering. With this is a call not to overthink things, with the most valuable thing you can do for your health this week is knowing when to keep your work hat on and when to take it off.
---
You may also like