Aquarius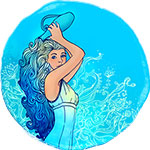 Jan 20 - Feb 18
---
Today's Horoscope
This week
This month
---
Aquarius Weekly horoscope for Jan 23 to Jan 29, 2023
The Sun only returned to Aquarius on Friday but already your birthday month and new solar year is off to an empowered start. That would have been the case even before the Moon returned over the weekend, with the New Moon this created still playing out on Monday. This adds to what was already going to be an empowered start to the week, for it is on Monday that an alignment between Venus and Saturn, the last in your sign for another three decades peaks. With Saturn moving into the final six weeks of his nearly three year visit on Wednesday and Venus leaving on Friday, this is giving you the will and the resolve to do whatever it takes for as long as it takes when it comes to anything you set your heart on. This is part of a general releasing of the brakes with Uranus, the last of the four planets that began the year in retrograde motion turning direct on Monday. The first full week of your birthday month and new solar year couldn't get off to a better start.
Love & Romance
While the weekend's New Moon in Aquarius, just two days after the Sun returned has given your birthday month and new solar year an early boost, this is also good news for matters of the heart. The Moon is not only still here as we move into the new week but on Monday will align with Venus, just as the planet of love's alignment with Saturn here peaks. This will help to amplify what was always going to be a pivotal time for giving your heart the power to move mountains. With Venus leaving Aquarius on Friday, this puts the Moon in the right place at the right time. However, this is only part of the reason for a rise in romantic confidence and resolve. It was just as the weekend's New Moon peaked that the Moon moved into a friendly aspect to Mars, still in his early weeks in direct motion in your romantic sector. This will be followed by the Sun's same friendly aspect over the weekend, adding fuel to his romantic passions and fighting spirit just after Venus has left Aquarius.
Business & Career
The Moon's return to your career sector last week and a Full Moon in your work sector 10 days earlier means that it has already made its first visit to your two professional houses for the year. These monthly visits are key to not only keeping job and career matters on track but for staying emotionally and intuitively engaged in how things are continuing to evolve and play out. This week brings a chance to let things settle, knowing that whatever was triggered by the Full Moon earlier in the month won't fully play out or run its course until the Moon comes full circle when it returns to your work sector next week. Until then, this week the focus is more on the money, as the Moon not only returns for its first visit to your income sector for the year from Tuesday to Thursday but in time to ensure your nose for money is sharp ahead of Venus' return on Friday. This will normally kick off what can be some of the most lucrative weeks of any year, but this will be just the forerunner for something even bigger.
Money
While it might be business as usual at the start of the week, that is about to change and especially on the income side of the financial fence. With no planetary activity in your financial sector, where the focus is more on what you do with and how you manage the money you have and the Moon having already made its first visit for the year, you have everything you need to keep on top of things yourself. It is on the income side of the financial fence that things are about to get a lot more exciting. It starts with the Moon's return to your income sector from Tuesday to Thursday, sharpening your nose for money in the heart of the working week. This is not the Moon's first visit since Jupiter left last month but it is the first since the asteroid Juno left, with Neptune on his own for the first time in over a year and for the last time for another three years. This is a chance to connect with the planet of dreams without having to overthink things ahead of Venus, the planet of money's return on Friday.
Health
While the Sun's return to Aquarius last Friday has given you a lot more energy, something that the weekend's New Moon has added even more enthusiasm to as you move into your birthday month and new solar year, your old solar year has only just ended. This means that while you might be full of new energy and enthusiasm there is still a need to pace yourself or at least test how far you can and can't push yourself. It is harder to dial things back after you have gone too far than it is to increase your activity in incremental steps.
---
You may also like