Virgo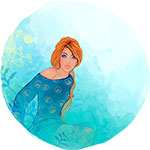 Aug 23 - Sept 22
---
Today's Horoscope
This week
This month
---
Virgo horoscope for October 2022
While your birthday month ended when the Sun left Virgo on 23rd October the job of making choices, decisions and plans for the coming year is still underway and a mission to better understand your real needs and priorities will continue throughout the month. It was just hours after the Sun left Virgo on 23rd September that Mercury retrograded back in, four weeks after leaving. As the planet of communication and smart thinking and your ruling planet, this was a chance to return to the drawing board and reconsider your options. While Mercury will turn direct on 2nd October he won't leave until 11th October, giving you plenty of time to work on your game plan and resolutions for the coming year.
Even then, this is something that you will need to keep fairly flexible, for it was in the closing hours of September and just as Venus was leaving Virgo that the dwarf planet Ceres returned. Here now until December, this is the first full month of Ceres' first deep dive into your needs and priorities in four years. Meanwhile, while the Sun will always spend the first three weeks of October in your income sector not only do you have Venus, the planet of money here with her but with some of the most powerful professional conditions in decades.
The Sun and Venus will both leave your income sector on 23rd October but with Mercury back from 11th October to 30th October this was always going to be the most potentially lucrative month of the year. What you don't normally have is any planetary activity in either of your two professional houses but instead, not only is Mars in the early months of his longest visit to your career sector in eight decades but will be here during the final six months of Saturn's last visit to your work sector for another three decades.
Love & Romance
While it is business as usual on the romantic and relationship fronts as you move into the new month that is about to change, though one to a greater degree than the other. The first sign of change is on the romantic front, with Pluto turning direct in your romantic sector on 9th October. Since his return in 2008, Pluto has always spent the middle months of each year in retrograde motion with his direct turn a chance to start looking to the future, though with several months before the Sun and faster planets return. Pluto will be at a standstill for much of the month so it is less that things will be moving and more that you will start looking forward.
When the Moon moves from 2nd October to 4th October Pluto will still be in retrograde motion, with these romantically charged lunar vibes amplifying a sense of romantic nostalgia. However, when the Moon comes full circle on 30th October, where it will see out the month Pluto will be in direct motion, with the focus less on the past and more on where you are going. Something similar is happening on the relationship front, with Neptune and the asteroid Juno both starting the month in retrograde motion in your relationship sector.
Neptune will remain in retrograde motion until next month but Juno, the queen of commitment and especially commitment to your relationships will turn direct on 24th October. This will keep the doors open to the past while offering a chance to start looking to the future. However, it is just days later that there is a major change with Jupiter, who had left in May retrograding back into your relationship sector on 28th October. With the Sun and Venus both in your communication sector by then and Mercury, the planet of communication returning on 30th October, the timing couldn't be better.
Business & Career
While the Sun will always spend the first three weeks of October in your income sector and this has the potential to be the most lucrative point in any year, there is usually one big problem with this. That problem is the lack of planetary activity in either of your two professional houses at the time. With the Sun and the faster planets making January and February the most active months of any year on the job front and April and May on the career front, there is rarely anything for income potential to stick to other than the momentum already created. However, welcome to 2022, the year that has well and truly broken the mould.
For the second year in a row and for the last time for another decade, when the Sun, Mercury and Venus returned to your income sector it was to find Saturn in your career sector. Saturn might be in retrograde motion but having him here and what he has already helped you to invest means that there is something for income potential to launch off. However, for the first time in 15 years, when the Sun and the faster planets returned to your income sector this year it was to find Mars in your work sector, loading your bases across the income, work and career fronts.
Mars is normally only in your work sector for six weeks and as he has been here that long as you move into the new month, the warrior planet of the cosmos should be about to leave. Instead, Mars is slowing down ahead of a retrograde turn on 31st October that will not only keep him here for the rest of the year but until March 2023. With Saturn in your career sector until March as well and the two set to work in tandem over the next six months, far from a quiet point in this professional year this is one of the most powerful points professionally in a decade. Evidence of that can be felt from the start, with Mars and Saturn starting the month at a friendly aspect.
Money
Because the Sun will always spend the first three weeks of October in your income sector, the solar spotlight is always on your income situation, matters and options at this time of year. However, this doesn't always coincide with what can be the most lucrative weeks of any year, which are when Venus, the planet of money moves through. Last year, by the time you moved into October before the Sun even had a chance to put the solar spotlight on things Venus had been and gone. The year before, it was the Sun that had been and gone by the time Venus returned, never here at the same time.
It is a different story this year, with the Sun and Venus not only here at the same time but so much in lockstep that they will not only leave within hours of each other on 23rd October, but they will spend their final days together here aligned. This is just one reason why October has the potential to be the most lucrative month of the year. Another reason is having Mercury and his smart head for money to draw on from 11th October to 30th October and the time he has already spent here before retrograding back out last month. However, the main reason is the support from Mars in your career and Saturn in your work sector.
On the income side of the financial fence, it is all about looking to the future but on the financial front, even after Jupiter retrogrades back out of your financial sector on 28th October the focus will remain on the past. Jupiter is retrograding back over ground already covered but that he will also cover for a third time when he returns just before Christmas. This is when Jupiter will get serious about financial growth and expansion but for now, it is almost as though the planet of luck and expansion is standing back and letting income potential have its turn. Meanwhile, the Moon will give you a better read on money matters from 9th October to 11th October while sharpening your nose for money and acting as a trigger when it moves through your income sector from 23rd October to 25th October.
Health
This is not so much a month of two halves but a turning point for any health matters or just your general sense of wellbeing or where your focus is. With Saturn in your health sector since 2020, there may have been challenges and in retrograde motion for months now, you might be dealing with past issues or just feeling that something is holding you back. That is likely to increase as Saturn comes to a standstill ahead of his direct turn on 23rd October, ending his last retrograde phase here for another three decades. Yet from the start there is a lot of confidence and especially when it comes to the confidence to take ownership of the past. This is something that the Moon will tap into when it moves through from 4th October to 6th October, giving you a better read on what your body and Saturn are telling you.
---
You may also like