Taurus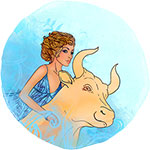 Apr 20 - May 20
---
Today's Horoscope
This week
This month
---
Taurus Weekly horoscope for Oct 3 to Oct 9, 2022
It is the Moon who is bringing home just how rich and diverse life has become but also how evenly balanced the playful and busy side of life's fence has become. The Moon not only begins the week in an adventurous part of your chart but is here when on Monday, Mercury is spending his first full day in direct motion in a fun, playful, romantic and creative part. With Pluto just days away from turning direct in an adventurous part of your chart over the weekend, the playful, creative and adventurous side of life's fence is coming alive. Yet the Moon not only returns to your career sector in time to fuel your professional instincts and imagination in the heart of the week but just as there are some major developments across the income, work and career fronts. This is not just the Moon's last visit while Saturn is in retrograde motion in your career sector but the only visit while the Sun and Venus are in your work sector.
Love & Romance
There has been a changing of the guard on the romantic front, with Venus having not only left your romantic sector last Thursday but just minutes before the dwarf planet Ceres returned to begin her first deep dive into your heart's needs and priorities in four years. While Venus is the planet of love and the 24 days that she spends in your romantic sector can be the most romantically charged weeks of any year, she isn't here long enough to take this too deeply. Ceres, on the other hand, is not only here until December but will retrograde back in next March to spend another three months here. Even for a planet that will always take a deeper dive into your heart's needs and priorities, this is a long time. Meanwhile, Mercury's direct turn here over the weekend makes it all about looking to the future. Also looking to the future are the relationship gods, with the Sun and Venus now less than three weeks away from your relationship sector.
Business & Career
The timing of the Moon's return to your career sector on Tuesday means that it will be here, fuelling your professional instincts and imagination while making it easier to remain emotionally and intuitively engaged in the heart of the working week. In any week that would be an advantage, but everything about this visit makes this anything but an ordinary monthly visit. Since Saturn's return in 2020, the Moon has returned every four weeks with a chance to check in, but this last visit while in retrograde motion is been especially important. However, when Saturn turns direct later in the month this will end his last retrograde phase here for another three decades, making this an important chance to gain even more access to the rear view mirror. This is also the Moon's only visit while the Sun and Venus are in your work sector, forming a friendly aspect to them and to Mars in your income sector as it moves through.
Money
While the Moon left your financial sector on Sunday, this allows you to begin the week with your financial instincts and imagination fuelled from the start but the process of unpacking a download of information just getting started. With no planetary activity on this side of the financial fence, this is an important point in each month to check in with your financial situation and money matters. This was also important for the other side of the financial fence, with the Moon having made its second visit since Mars' return to your income sector. It was their clash over the weekend that may have created some financial tension but with Mars slowing down ahead of a retrograde turn that will keep him in your income sector for the next six months, this will already be turning into motivation. This comes just as Mars' battle to fight for what you deserve becomes a long term war.
Health
While the Sun will always spend the first three weeks of October in your health sector and Venus will always return at this time of year, it has been three years since they have been here at the same time. As Venus moves into her first full week in your health sector, where she has returned to fuel a desire to look and feel good, it is with the benefit of also having the solar spotlight on your health needs, situation and matters. Due to become a tighter unit over the coming weeks, this will make it easier to turn desires into reality, with Venus focusing on the desire and the Sun the reality.
---
You may also like