Taurus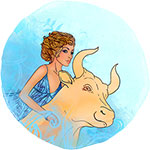 Apr 20 - May 20
---
Today's Horoscope
This week
This month
---
Taurus Weekly horoscope for Dec 4 to Dec 10, 2023
While the Moon is putting the focus on the playful, creative and adventurous side of life's fence on Monday and just as Venus has reached her last full day in your work sector, this can guard against overthinking things while giving you a feel for a new chapter that began over the weekend. A parade of planets has moved through your work sector since June, leaving you with the resources, tools and everything you need in order to make the right choices, decisions and plans moving forward. In her final hours Venus' focus is not on the when, where and how but on giving your heart a voice and with the Moon and Mercury getting together to put the focus on the playful, creative and adventurous side of life's fence, this can help to put things in perspective. Venus is the last planet that would want life to become all work and no play. By the time the Moon returns on Thursday to tie up loose ends on the job front Venus will be settling into her early hours in your relationship sector.
Love & Romance
By the time you move into the new week, it has been over a week since the Sun, Mars and the dwarf planet Ceres' departure from your relationship sector left it empty, something that has created an all important firebreak before the next chapter begins this week. There has been a lot of focus on your relationships over the last three months and last month in particular, there may have been some ups and downs, but with time during this firebreak to process a journey towards better understanding what you want from your relationships and what they need from you. It is on Tuesday, 12 days after the Sun left your relationship sector that Venus, the planet of love will return to work her magic and not leaving until 30th December, she will spend all but the final hours of the year here. Venus with the majority of the housekeeping already done, Venus is able to focus more on attracting what you want from your relationships. It is on Saturday that the Moon will return for its last visit for the year and as the only visit while Venus is here, will bring a chance to become more emotionally engaged.
Business & Career
When Venus leaves your work sector on Tuesday she will not only bring her own short visit to a close, but all planetary activity in either of your two professional houses for the year. With major new developments on the career front in January and a long period of planetary activity in your work sector that began back in June finally running its course, this will be a chance to take your foot off the gas and let the momentum of recent months carry you through to the end of this professional year. However, until she leaves Venus will be working to give your heart a voice as well as working, as the planet of money, desire and attraction to attract opportunities and steer things in a lucrative direction. Venus is focused more on the 'what' than the when, where and how, with the Moon returning from Thursday to Saturday a chance to tie up loose ends. This is when you can review the journey that the year has taken you on, get a sense of what is needed to stay on track and prepare for the New Year.
Money
A week on from last Monday's Full Moon in your income sector and its clash with the Sun and Mars in your financial sector, both sides of the financial fence are benefiting from the experience, with any short term pain already turning into long term gain. While there is no planetary activity in your income sector, as the Moon's only visit while Venus, the planet of money is in your work sector, she will continue to use this to steer work and job matters in a lucrative direction until she leaves on Tuesday. Meanwhile, while the Moon's clash with the Sun and planets in your financial sector was brief, this was the push needed to make the most of Mercury's smart head for money before he left over the weekend. The Full Moon peaked two days after Mars returned to begin his first visit to your financial sector in two years and with the warrior planet of the cosmos not leaving until early January, he has already used any financial tension as fuel for your financial passions and fighting spirit in a quest to take your financial power back.
Health
Both the Moon and Venus are going to have an impact on the health front this week, though not at the same time. The week begins with Venus, the planet of beauty still in your health sector but only just, with her departure on Tuesday not only bringing her own visit to an end but all planetary activity in your health sector for the year. Venus is bringing a desire to look and feel good, which is giving you the motivation to draw on the resources that you already have. Venus will leave on Tuesday and it is two days later that the Moon will return for its last visit for the year, something that will give you a chance to check in, get an intuitive read on what your body is telling you and of how your physical resources are coping with life's demands.
---
You may also like