Scorpio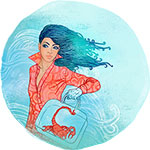 Oct 23 - Nov 21
---
Dec 8, 2023
Dec 9, 2023
Dec 10, 2023
---
Saturday, December 9, 2023
Today you are experiencing unusually severe and fluctuating mood swings and are particularly irritable. Your work will be affected by it, because you are more easily annoyed with your colleagues than they find bearable. What you normally tolerate as unusual eccentricities in others today appears like bothersome flaws. It is an inappropriate day for important conversations - you should rather concentrate on tasks that don't demand a whole lot of patience from you.
---
This Week
This Month
This Year
9

10

48

37

30

54

22

82

47
What the planets say
Before leaving a nostalgic and reflective part of your chart today, the Moon will do what it does with each monthly visit, which is to clash with the dwarf planet Eris in your work sector. This is a clash that has happened every four weeks for the last nine decades and is key to ensuring that you know when to keep your work hat on and when to take it off. The difference this time is that this is the last reminder that you will get this year.
Power Numbers: 8, 9, 31, 36, 40, 56
Friendly Signs: Gemini & Leo
Beware of: Virgo
Colour of the day: Light Salmon
Famous Birthdays: John Milton, Kirk Douglas, Redd Foxx, John Cassavetes, Joan Armatrading, Jakob Dylan
---
Video Horoscope
Follow Scorpio on Youtube =>
---
You may also like