Gemini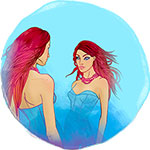 May 21 - Jun 20
---
Today's Horoscope
This week
This month
---
Gemini Weekly horoscope for Oct 3 to Oct 9, 2022
Monday is not only Mercury's first full day in direct motion, with the last Mercury retrograde phase of 2022 having just ended on Sunday, by the end of the week Pluto will be in direct motion as well. While there are still more planets in retrograde rather than direct motion, areas of life that have been on hold are starting to move again. For Mercury, this means giving the green light to home and family matters while it is Pluto's direct turn in your financial sector over the weekend that will give money matters the green light. Meanwhile, as she spends her first full week in a fun, playful, romantic and creatively charged part of your chart, Venus will not only get a boost from the Moon's return to an adventurous part on Tuesday but from what this is able to tap into. With signs later in the week of major new developments ahead on the job and career fronts, this is a chance first to shore up the playful, creative and adventurous side of life's fence.
Love & Romance
While the Moon left your relationship sector on Sunday, with no planetary activity on the relationship front this allows you to begin the week more emotionally engaged. A clash with Mars in Gemini before leaving may have pushed some buttons and fuelled some strong emotional responses, but this clash between your personal and relationship needs is key to knowing what you want from your relationships and what they need from you. The biggest danger is not that anything the Moon may have triggered will linger and more how easily this could be forgotten with Venus, the planet of love's first full week in your romantic sector grabbing your attention. The Sun will always spend the first three weeks of October in your romantic sector but it has been three years since Venus last moved through while the solar spotlight was on matters of the heart and on what can be the most romantically charged weeks of any year.
Business & Career
As you move into the new working week you are halfway between the Moon's departure from your work sector last Friday and its return to your career sector this Friday, but with a link between the two. As well as leaving you with an intuitive read on work and job matters, the Moon left you with a download of information, insights and messages that you have had a chance to unpack over the weekend, giving you an edge from the start. This has also left you with a sense of anticipation on both the job and career fronts, as your sixth sense started to pick up on the change ahead. The Moon will do the same when it returns to your career sector on Friday, sharpening your professional instincts but with a sense of anticipation even stronger. By the time the Moon returns on Friday Jupiter will be just three weeks away from retrograding back in and by the time it leaves on Sunday, the Sun and Venus will be just 14 days away from your work sector.
Money
Starting the week with the Moon in your financial sector will always be an advantage, ensuring your financial instincts and imagination are fuelled and you are emotionally and intuitively engaged from the start. With Pluto turning direct here over the weekend and already at a standstill, this is an important and timely chance to check in. Since his return to your financial sector in 2008 Pluto, the planet of change and revolution has spent the middle months of each year in retrograde motion. However, once he turns direct over the weekend, Pluto will begin moving towards the exit door and after 14 years, prepare to leave in March. While Pluto will retrograde back in for a few months in 2023 and again in 2024, these are the final days of his last full retrograde phase here and with it, a chance to not just look to the past but with a view to what you can change. You can't change the past itself but with a turnaround ahead there is an opportunity for change coming up.
Health
While the Moon left your health sector last Friday, at any time of the year you would not only still be benefiting from a better read on what your body is telling you but with a chance to have unpacked and processed a download of information over the weekend. While that is the case with every monthly visit, even more so as the Moon made its last visit before the Sun and Venus return in three weeks. This will begin the first planetary activity on the health front this year and due to return within hours of each other, this will see the solar spotlight shift onto your health needs, situation and matters just as a desire to look and feel good kicks in.
---
You may also like