Snake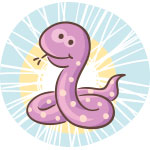 2013, 2001, 1989, 1977, 1965, 1953
---
Dec 3, 2022
Dec 4, 2022
Dec 5, 2022
---
Sunday, December 4, 2022
Those you are closest to are the secret to your joy and inspiration. Today is a good time to stop and thank them, making sure your appreciation goes past the empty ring of words. Don't fall into excess just to impress someone you think highly of.
Snake Weekly Horoscope: Nov 28 to Dec 4, 2022
The first full week of any lunar month is full of enthusiasm and hope, with the Moon still embracing its growth or waxing phase. For the Snake, this has been especially exciting because the New Moon that welcomed in the month of the Rat, with its focus on change and transformation last weeks, also brought the month of the Pig to a close. For the Snake, the month of the Pig can be one of the more challenging months of any lunar year, when halfway between the last month of the Snake and the next and at the halfway point in this current personal 12 month lunar cycle, this can put your needs and priorities to the test. Yet it is those wakeup calls that the Rat is using as a chance to usher in a month for change and transformation.
Snake Monthly Horoscope: December 2022
This is not only a month of two halves, but you have things the right way around. Until 23rd December, the month of the Rat is not only putting the focus on your financial situation and money matters but on change and transformation. Following on from the month of the Pig, which may have challenged your excuses, the Rat brings an opportunity for a reset. As well as a chance to bring this financial year home, this is a chance to work on your personal resolutions for the New Year. Change will come in the form of an Ox Moon from 23rd December to 25th December, ushering in the adventurous Month of the Ox in time for Christmas and the holiday period. The month of the Ox will run through to the first three weeks of January, ending one year and beginning the next under its adventurous influence.
49

79

68

93

31

2

57

37

34
Power Numbers: 4, 12, 22, 26, 32, 55
Friendly Signs: Ox & Tiger
Beware of: Goat
Colour of the day: Plum
Born Today: Thomas Carlyle, Wassily Kandinsky, Rainer Maria Rilke, Marisa Tomei, Tyra Banks
---
You may also like