Snake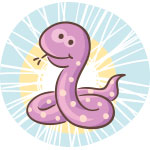 2013, 2001, 1989, 1977, 1965, 1953
---
Oct 6, 2022
Oct 7, 2022
Oct 8, 2022
---
Friday, October 7, 2022
Solid and steady progress in achieving career goals is highlighted now. If you are not happy with the kind of work you do, then investigate the possibilities of a change in your assigned duties at this time. If you are happy with the kind of work you do and you perform your job well, it is very likely that you will receive a promotion now.
Snake Weekly Horoscope: Oct 3 to Oct 9, 2022
While for the Snake, the month of the Dog can be the busiest month of any lunar year, as the Moon moves into its full growth phase this busy and industrious month is in full flight. What could give this an additional boost is a competitive and professionally charged Tiger Moon from Tuesday to Thursday. In the heart of the Year of the Tiger and with the Tiger and Dog the best of friends, this is not only likely to be a busy week but an especially good week on the job and career fronts. However, an adventurous Ox Moon on Monday and Tuesday brings a timely reminder that life can't be all work and no play. As the Snake and the Ox are the best of friends, this will be easy to embrace.
Snake Monthly Horoscope: October 2022
While for the Snake, the busy and industrious month of the Dog might mean that you are working longer hours or that life in general becomes busier, it is also a month when you can get a lot done. While this puts a lot of focus on work and job matters, where most of us direct most of our time and energy, the Dog is focused on anything that keeps us busy, with a chance to get stuck into projects or anything that needs to get done. The difference this year is that this is playing out during the competitive and professionally charged Year of the Tiger. Until the month of the Dog ends on 25th October this will be a good month for job and career matters. It is then that the month of the Pig will turn the focus onto your relationships while bringing you to the halfway point in this current personal 12 month lunar cycle.
85

79

72

80

37

7

92

53

51
Power Numbers: 7, 8, 22, 27, 49, 66
Friendly Signs: Rooster & Rat
Beware of: Goat
Colour of the day: Bisque
Born Today: Joe Hill, Niels Bohr, R. D. Laing, Desmond Tutu, Clive James, John (Cougar) Mellencamp, Toni Braxton
---
You may also like