Snake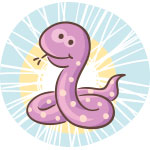 2013, 2001, 1989, 1977, 1965, 1953
---
Dec 8, 2023
Dec 9, 2023
Dec 10, 2023
---
Saturday, December 9, 2023
Today you feel less competitive and ambitious about practical and mundane matters. The world of imagination, fantasy, art, music, or mysticism is very appealing to you now, and if you have talent in any of these areas, this can be a creative and fruitful time for you. However, the negative possibilities for you now are being undisciplined, slack, indefinite, and wasting time and energy.
Snake Weekly Horoscope: Dec 4 to Dec 10, 2023
The final week of the month of the Pig might call for some compromise, but it is by better understanding the needs of others that you are also getting a better understanding of your own needs. The Snake and Pig are opposing signs and that not only means that things, people or situations that aren't a natural fit are going to be more obvious, but that you are now at the halfway point in your current personal 12 month lunar cycle. Where other months will have given you a free pass, the Pig will stand in your way at a time when there is an opportunity for a reset, opening your eyes to what you need to be aware of.
Snake Monthly Horoscope: December 2023
Until the month of the Pig runs its course on 13th December the focus is not only on your relationships but on the chance that this brings at this time of year for a personal reset. The Snake and the Pig are opposing signs, so this can come with some challenges. However, in the process, at the halfway point of this current personal 12 month lunar cycle, this is going to highlight where your needs and priorities aren't being met, at a time when there is an opportunity for some course corrections. This is something that you can fully embrace when the month of the Rat turns the focus on change and transformation from 13th December. As this will run through to the early weeks of 2024, the timing couldn't be better.
Power Numbers: 6, 8, 9, 14, 54, 64
Friendly Signs: Horse & Goat
Beware of: Ox
Colour of the day: Light Slate Gray
Born Today: John Milton, Kirk Douglas, Redd Foxx, John Cassavetes, Joan Armatrading, Jakob Dylan
---
You may also like