Rabbit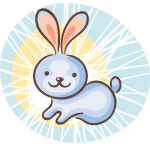 2011, 1999, 1987, 1975, 1963, 1951
---
Oct 6, 2022
Oct 7, 2022
Oct 8, 2022
---
Friday, October 7, 2022
Increased physical courage and a strong sense of adventure combine to make this a very interesting time. You need to do something innovative, daring, unusual, liberating, exciting, and challenging. You are inclined to act on some of the wilder impulses and desires you feel from time to time. If you have an inventive streak, you could make a startling discovery or breakthrough now.
Rabbit Weekly Horoscope: Oct 3 to Oct 9, 2022
For the Rabbit, the month of the Dog not only puts the focus on your financial situation and money matters but on change and transformation. Always following on from the month of the Rooster, which can bring some wakeup calls but also a chance for a reset at the halfway point in each personal 12 month lunar cycle, there is a chance to rebuild on the other side. Whether it is change on the financial, personal or on any front, with the Moon in its full growth phase and with everything expanding, this is a time for investing in yourself. You can't change what you can't see and while the Rooster made you see, the Dog helps with the change that can come from this.
Rabbit Monthly Horoscope: October 2022
For the Rabbit, moving into October things are likely to feel lighter, with less tension and a sense that you have passed through something that is now behind you. What is behind you is the month of the Rooster, which for the Rabbit can be the most challenging month of any lunar year but important when it comes to the wakeup calls that allow for a reset at the halfway point in this current personal 12 month lunar cycle. On the other side, you are a lot more aware of your needs and priorities and as you look to not just the second half of this lunar year but the Year of the Rabbit, which begins early next year, it is with confidence. Meanwhile, until running its course on 25th October the month of the Dog puts the focus on money matters but also brings an opportunity for change and transformation. It is then that a New Moon will take you into the adventurous month of the Pig.
25

26

27

64

12

90

1

73

37
Power Numbers: 7, 22, 34, 36, 37, 38
Friendly Signs: Dragon & Dog
Beware of: Tiger
Colour of the day: Dark Green
Born Today: Joe Hill, Niels Bohr, R. D. Laing, Desmond Tutu, Clive James, John (Cougar) Mellencamp, Toni Braxton
---
You may also like