Ox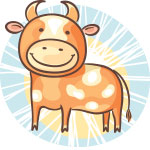 2021, 2009, 1997, 1985, 1973, 1961
---
Oct 6, 2022
Oct 7, 2022
Oct 8, 2022
---
Friday, October 7, 2022
You know just what you want right now and woe to anyone or anything that gets in your way!Accidents, mistakes made in haste, or ego conflicts may occur due to your impatience and willfulness. Positively, physical energy is high and you could accomplish a great deal.
Ox Weekly Horoscope: Oct 3 to Oct 9, 2022
As you move into the second week of the competitive and professionally charged month of the Dog, this is likely to be a busy but also exciting week. The second week of any lunar month is always the busiest and the most expansive, with the Moon flexing its full muscles in the lead up to the Full Moon. Yet the more you can invest into this expansive week the more you will have to work with when things start to wind down from next Monday. Meanwhile, a lucrative Tiger Moon from Tuesday to Thursday could energise things financially and professionally, right in the heart of the working week.
Ox Monthly Horoscope: October 2022
For the Ox, the competitive and professionally charged month of the Dog is the kind of month that you can really sink your teeth into. There is nothing that the Ox likes better than something to not only get the competitive juices flowing but a chance to prove your endurance, willpower and sense of determination. This makes this a good month for not only setting but achieving personal and professional goals and ambitions. This year there is an added advantage in that for the first time in 12 years the month of the Dog is playing out during the lucrative Year of the Tiger. This not only makes this a good month financially and professionally but as the Tiger and Dog are the best of friends there will be a helping hand. Meanwhile, the New Moon that will bring the month of the Dog to a close on 25th October will also usher in the social and serendipitous month of the Pig.
92

76

74

24

35

48

80

83

94
Power Numbers: 7, 9, 13, 49, 59, 66
Friendly Signs: Dragon & Snake
Beware of: Tiger
Colour of the day: Dark Slate Blue
Born Today: Joe Hill, Niels Bohr, R. D. Laing, Desmond Tutu, Clive James, John (Cougar) Mellencamp, Toni Braxton
---
You may also like