Horse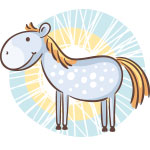 2014, 2002, 1990, 1978, 1966, 1954
---
Oct 6, 2022
Oct 7, 2022
Oct 8, 2022
---
Friday, October 7, 2022
That all-consuming pastime of yours could take a backseat when someone reminds you that he or she has not been receiving nearly enough attention!Think about it: if the shoe was on the other foot, you wouldn't be feeling too happy.An overdue apology may come your way from a friend or work associate.
Horse Weekly Horoscope: Oct 3 to Oct 9, 2022
The biggest problem that you might have this week is keeping your work hat on, though a competitive and professionally charged Rabbit Moon from Friday to Sunday will allow you to catch up. Yet even then, even after an adventurous Tiger Moon midweek runs its course the Tiger and the fun, playful, romantic and creative month of the Dog are very much in control. This is not just the most expansive week of the month of the Dog but for the first time in 12 years this is playing out during the Year of the Tiger. This is a week when the Dog's playful and creative and the Tiger's adventurous influence is on full display and as part of the same triad of affinity, they will be working as a team.
Horse Monthly Horoscope: October 2022
This is a month of two halves, less because it is neatly divided down the middle and more because the energy in play during the majority of the month will take a fairly radical turn when a New Moon on 25th October will bring the month of the Dog to a close while ushering in the month of the Pig. Until then, the month of the Dog is not only putting the focus on matters of the heart and all things fun, playful, romantic and creative but for the first time in 12 years, with the support of the adventurous Year of the Tiger. As the Dog and the Tiger are the best of friends, this will do more than create a lot of positive energy across the playful, creative and adventurous fronts. Meanwhile, things will take a fairly dramatic turn when the busy, industrious and work focused month of the Pig begins on 25th October.
35

4

81

84

53

20

47

40

59
Power Numbers: 7, 29, 40, 42, 45, 46
Friendly Signs: Rooster & Dog
Beware of: Goat
Colour of the day: Sandy Brown
Born Today: Joe Hill, Niels Bohr, R. D. Laing, Desmond Tutu, Clive James, John (Cougar) Mellencamp, Toni Braxton
---
You may also like