Cancer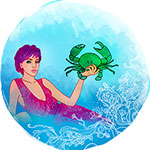 Jun 21 - Jul 22
---
Today's Horoscope
This week
This month
---
Cancer horoscope for October 2022
For you, October is a month where there is a chance to feel more grounded but especially so this year. The Sun will always spend the first three weeks of October in your home and family sector and as well as putting the solar spotlight on home and family matters, this is when all things close to home become important. This year Venus is moving through at the same time and that makes all the difference, for when she is here home is where the heart is. Last year Venus had been and gone by the time the Sun returned and the year before that, by the time she returned the solar spotlight had already shifted off home and family matters.
This year they are in sync and with both leaving on 23rd October, that will remain the case. This can encourage you to not just stay home more or spend more time focused on the things and people close to home but to slow down. What makes this especially so this year is that you not only have Mars in a nostalgic and reflective part of your chart all month but slowing down ahead of a retrograde turn on 31st October. Every planet that moves through your home and family sector, including Mercury who will return for a double dip visit from 11th October to 30th October will move into a friendly aspect to Mars.
It is not just that the Sun and the faster planets are putting the focus on things close to home as Mars is encouraging you to slow down but that they are actively working in tandem. With the busiest months of the year not beginning until next month and Jupiter retrograding back out of your career sector on 28th October, even professionally you will feel a need to pull back. This will make it easier to find the right work/life balance but also embrace an upswell in planetary activity in a fun, playful, romantic and creatively charged part of your chart from 23rd October and an eclipsing New Moon that will energise the playful and adventurous side of life's fence two days later.
Love & Romance
To begin with, it is business as usual on the romantic and relationship front, which means you have Pluto in retrograde motion in your relationship sector and the South Node in your romantic sector, where it is having a subtle but steady influence. That has been the case for much of the year but as you move into the new month change is in the air and on both fronts. The first sign of change is on the relationship front, with Pluto turning direct in your relationship sector on 9th October. What makes the timing significant is that you not only start the month with Mercury in retrograde motion in your communication sector, but the planet of communication is here until 11th October.
Mercury and Pluto will be working as a team, with the communication lines well supported both while the focus is still on the past and as the tide turns. With the dwarf planet Ceres in her first full month in your communication sector communication support will continue as the focus on both the communication and relationship fronts shifts to the future and onto where you are going rather than on where you have been. Things will have settled into a new but steady rhythm by the time matters of the heart and all things romantic get a boost.
This will happen with a bang with the Sun and Venus, the planet of love both returning to your romantic sector on 23rd October. In one fell swoop, the solar spotlight will shift onto matters of the heart and just as Venus returns to begin the most romantically charged weeks of any year. This will get an early boost when the Moon not only moves through your romantic sector from 25th October to 27th October but when just hours after returning it will align with the Sun to form an eclipsing New Moon.
Business & Career
To begin with, it is business as usual on the professional front and that can work to your advantage. This allows you to move into the new month with a sense of familiarity, knowing that nothing is going to change just yet but also with a sense of expectancy as your sixth sense picks up on the change that is in the air. For you, what business as usual looks like is no planetary activity in your work sector until next month and all three planets, including Jupiter in retrograde motion in your career sector as they have been for several months. The one advantage that you do have is starting the month with the Moon in your work sector.
With no planetary activity in your work sector since Mars left in January but with the Sun, Mercury and Venus all returning next month, this is a valuable chance to check in but also to begin the month with an intuitive read on work and job matters from the start. The Moon will leave on 2nd October but will come full circle for a second visit from 27th October to 30th October. It is the Moon's return to your career sector from 9th October to 11th October that could be a game changer and not just because this is the last visit before Jupiter retrogrades back out later in the month.
While Jupiter, who will retrograde back out of your career sector on 28th October will return before Christmas, by then he will be back in direct motion and it will be over a decade before he is in retrograde motion here again. Until then, Jupiter is working to make the most of his final weeks in retrograde motion and of the doors open to the past, second chances and untapped potential. What makes the Moon's visit such a catalyst is not that Jupiter is running out of time and more because of the Full Moon this will create on 10th October. As a Full Moon, this can energise things and act as a trigger in a way that the Moon's ordinary monthly visits can't.
Money
What you have this month is the best of both worlds on both sides of the financial fence. It was only on 29th September that the dwarf planet Ceres not only left your income sector but ended all planetary activity on the income side of the financial fence for the year. Ceres stayed on after the Sun, Venus and Mercury moved through, something that should have ended all planetary activity on the income front but instead, allowed you to spend additional time in what was your last deep dive into your income needs and priorities for another four years.
In the end, it became less about the money and more about your needs and priorities across all the currencies in your life. Yet at the same time, with all of this year's planetary activity on the income front having just run its course there is still a lot of untapped income potential and momentum. This is something that the Moon could act as a trigger for when it moves through your income sector from 18th October to 21st October. The Moon will return to sharpen your nose for money and act as a trigger while forming a friendly aspect to Jupiter just 10 days before retrograding back out of your career sector.
Meanwhile, with no more planetary activity in your income sector, this has taken the pressure off Saturn in your financial sector while allowing the money gods to shift their focus back onto the other side of the financial fence. Saturn won't turn direct until 23rd October, with these final weeks in retrograde motion in your financial sector for another three decades a chance to take care of any financial housekeeping before looking to the future. Saturn and money matters are getting a lot of support this month and especially from Mars in an intuitive and imaginative part of your chart. There will be a chance to get a better read on money matters when the Moon moves through from 4th October to 6th October.
Health
With no planetary activity in your health sector until the Sun returns next month, it is the Moon's return every four weeks that will keep you connected and on track, as has been the case since Mars left in January. Because this is a 31 day month and because the Moon begins the month in your health sector, there will be time for it to come full circle and make a second visit this month. The Moon is here until 2nd October, giving you a read on what your body and gut are telling you from the start, before returning to do the same from 27th October to 30th October. During both visits, the Moon will clash with Mars, who is policing how well you know when to keep your work hat on and when to take it off.
---
You may also like